Pneumatic Drop Panel
$

700.00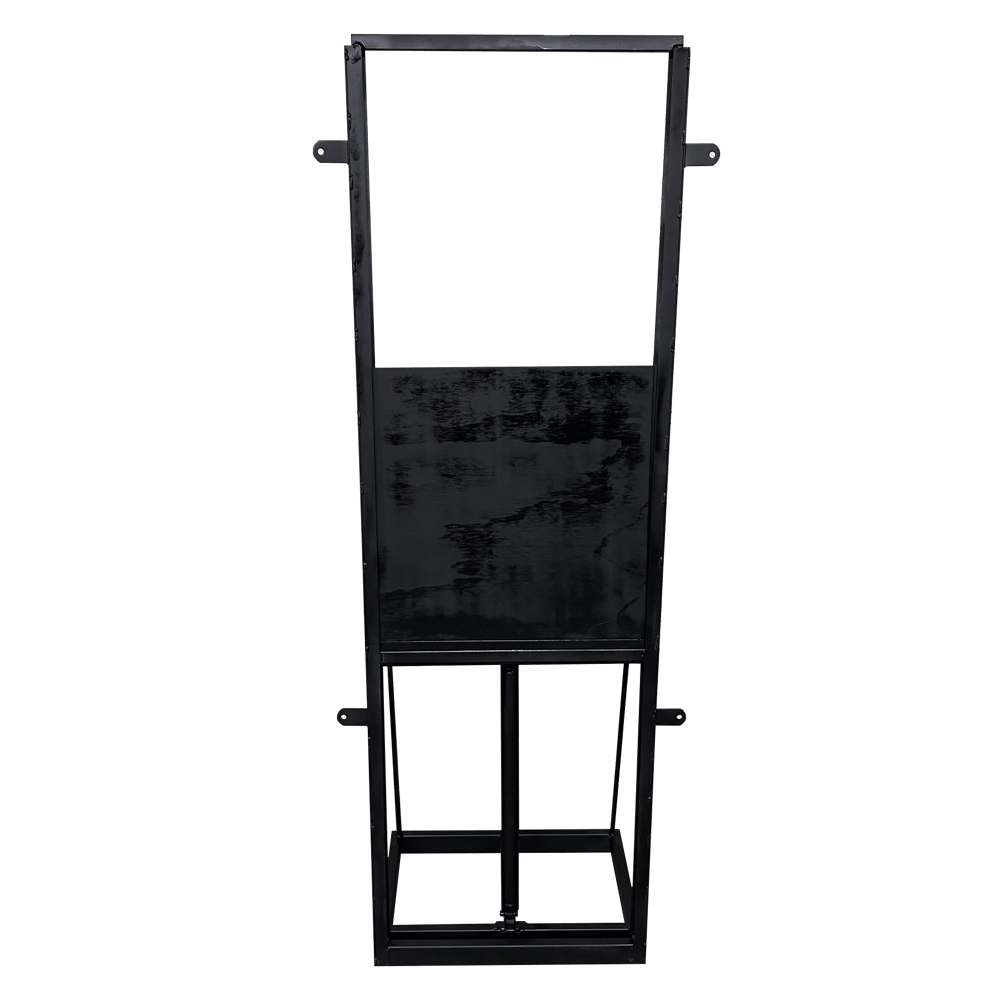 Our Pneumatic Drop Panel kit is designed to mount directly to your wall panel. Uses a 20" Pneumatic cylinder to move the panel up and down. Panel size 18"x20". All Steel frame and also a steel frame on the wood panel for longevity and durability. Comes Ready to go, plug and play with Mechanism, 12V Solenoid, Adjustable Speed Mufflers, Air Regulator, 12V Power Adapter.
***DUE TO THE CONSTRUCTION AND PINCH HAZARDS, THIS IS NOT FOR ACTOR USE! THIS IS DESIGNED TO HAVE A PROP (STATIC OR ANIMATED) BEHIND THE PANEL, AND ONCE THE PANEL DROPS, THE PROP IS REVEALED. ***
***FOR AN ADDITIONAL SAFETY MEASURE, WE RECOMMEND PUTTING A PIECE OF 1/8" CLEAR PLEXIGLASS ON THE OUTSIDE OF YOUR WALL PANEL, SO NO GUESTS CAN STICK THEIR HANDS OR FINGERS AT THE TOP. CLEAR PLEXIGLASS CAN BE SOURCED AT YOUR LOCAL HARDWARE STORE**
*To self automate this mechanism, we recommend the use of a prop controller. A prop controller is basically a mini computer that will tell the valve to activate once someone walks past the motion sensor. We are now offering the option to add on an Aamon Duo prop controller and motion sensor and set it up as a plug and play unit for an additional $95. Without the use of a controller, the mechanism will drop once you manually plug the power adapter into an outlet.*
USE DROP DOWN MENU FOR OPTIONS AND PRICING
-Mechanism Only
-Mechanism with Controller and Motion Sensor
-Mechanism with Controller, Motion Sensor, and a Bright White LED Spotlight (To shine on the prop behind the panel)
**THIS ITEM SHIPS FREIGHT! - SHIPPING WILL BE CALCULATED AND INVOICED ONCE COMPLETED*
Total Height 73", Requires 17" behind wall panel for mechanism.